William Wongso and the Importance of Learning Culinary Roots
by Pauline Chan & Intan Abu Daniel
Indonesian culinary expert, chef, restaurateur and author of Gourmand World Cookbook Awards winning book 'Flavors of Indonesia' William Wongso spent just a week in Brunei and our nation was better off for it. For one thing, those who attended his cooking demonstration at the Rizqun Coffee House of the Rizqun International Hotel learned how you can effectively rush through cooking beef rendang and still come up with awesome results. We also learned a little bit more about the culinary wonders of Indonesia through his cooking, and at the same time, William took time out to make sure he learned more about Brunei's cuisine by visiting our local wet markets. We were very fortunate to have an hour out of William's busy schedule to sit down and talk about the importance of understanding the roots of local cuisine, about putting Indonesian cuisine on the international map – and why fusion is such a confusion!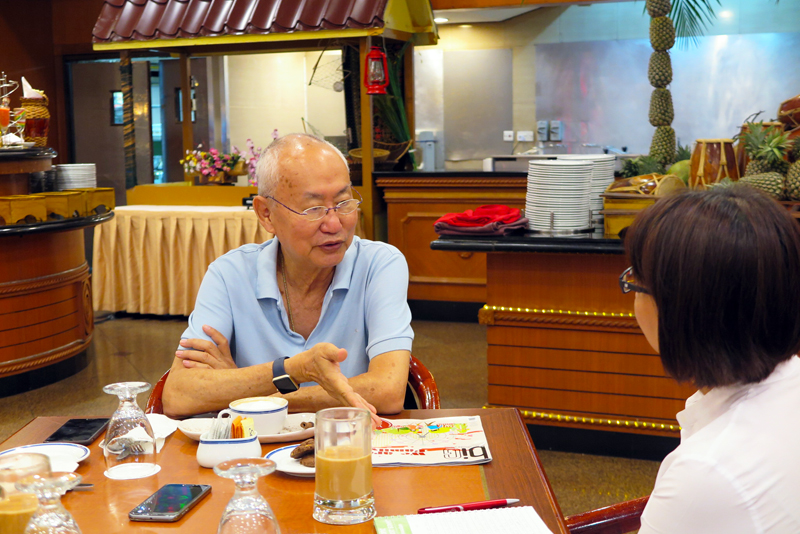 What dishes have you been featuring in your live cooking demonstrations in Brunei?
I do the principles of cooking Indonesian Rendang – but we don't do four hours of cooking! I created a system of cooking rendang so you don't have to stand in front of the wok for hours to keep stirring. I use an oven to slow cook, which takes about 60% of the cooking time, and it works out very well. The version that I'm teaching is the most complete one in terms of spices used: we use chilies, shallots, garlic, galangal, ginger, coriander, cumin, turmeric leaves, lemongrass, kaffir lime leaves, candlenut, that kind of blend. But the key to making good rendang is to caramelize it because of the thick Indonesian coconut cream we use.
We're also doing Satay Lilit – a Bali style dish of minced fish satay – and Ayam Tangkap, a dish from Aceh. For Ayam Tangkap, we originally use curry and pandan leaves, but I add a lot of curry leaves here, leaves of spring onions, lemongrass and turmeric leaves, which is fried individually. Surprisingly the daun kemangi is not available here, which is a type of Indonesian lemon basil.
I've also been doing the Arsik Fish Soup, a dish of the Batak ethnic group from the North Sumatra province, where we use the aroma of the Bunga Kantan and the sourness is derived from the fruit of the Bunga Kantan – which unfortunately you don't have in Brunei. Another ingredient of this soup is the Andaliman – a green Szechuan pepper, only used by this particular ethnic group.
All of these dishes that you're demonstrating can be found in your book, 'Flavors of Indonesia'. How did you learn about these recipes?
I used to be a baker, and I learned a lot about Western and Japanese cuisine. But for the last 15 to 20 years, I just thought, I'm Indonesian, and I should go back to my roots. So I started to learn. And because there's no institution to learn authentic Indonesian cuisine, I traveled a lot around the region, and I know a bit of people around Indonesia – I have been the Head Judge for the National Regional Cooking Competition in Indonesia for the last 15 years – so I knew where to learn.
In my book, most of the pictures were taken by me. For the last 40 years I've been documenting traditional wet markets, everywhere I go. I feel bad that a lot of these ingredients and recipes are vanishing, especially with the advent of social media and television cooking programs – a lot of the younger generation don't know much about authentic cuisine and forget about their roots.
Have you managed to salvage any authentic original recipes that have been lost?
From old Indonesian cook books yes, we rediscovered old recipes with some presumption. You can hardly understand the recipe so you need to work with their logic – we don't even understand some of the words!
So you've been actively travelling and introducing Indonesian cuisine around the world. What do you want people to know about Indonesian cuisine?
The mystery of it. The mystery and the diversity of the flavours of Indonesia. Because unlike in Vietnam, the youngest country to gain independence, food is introduced through people who travel and migrate by boat in groups, creating their own demand. Indonesians on the other hand, they migrate as individuals, so it's scattered. There's no proper Indonesian food.
In Thailand, they have cooking tourism where people can go to learn how to cook Thai food. Do they have that in Indonesia?
They're starting to, and they're beginning to understand the importance of it. Thailand's promotion of their cuisine uses a smart strategy – they must have about nine thousand Thai restaurants around the world. They don't introduce everything about Thai cuisine, so every Thai restaurant has the same type of dishes. Because if you want to taste more, then you have to come to Thailand.
This is the main issue with Indonesian cuisine. Indonesian restaurants around the world open on an impulse. They think of how to sell and adjust the dishes for the locals. I try to avoid all the compromise, except for the level of spiciness.
So you can retain the authenticity of the dish?
We have to! You see, now it's different than it was before. Now everybody can see, but they can't taste – Google can't give you taste. So people travel, they look for authenticity, and before I came to Brunei, I studied a bit about the food here, and try to introduce something new for the Bruneian palates.
I'm sad to say that we haven't achieved a decent Indonesian restaurant internationally, and the basic problem is they don't have a structure to support it. When you go an oriental store in Europe, it's dominated by Thai, Vietnamese and Indian products. Indonesia will only have one or two things, noodles and indomie!
In this day and age, a lot of the younger generation experiment. For example, they take traditional food and fuse it with cuisines from other cultures.
My principle about fusion food? A lot of times, it creates confusion. As an Indonesian, it's my responsibility to show the world our tradition. When the world wants to explore and play it further by using unique flavours, textures, ingredients, colours, whatsoever, and they want to fuse – it's very confusing. Every fusion dish needs a lot of explanation and after that, what is it all about? The most important explanation about a dish is the ingredients and the flavour implication of that ingredient, and that's it. Don't create a fantasy. Look at molecular gastronomy – it was such a hype because of the chef, Ferran Adriá Acosta, but now? The restaurant is closed.
You mentioned that you like to visit traditional wet markets when visiting a country.
First thing I like to do is visit their market. I've visited the Gadong market, and today I went to Tutong, which is quite interesting. Most of the items we can find in Indonesia, but the only thing I miss is that I don't see much river fish. I only saw one vendor selling small catfish, and the big ones are already chopped up.
In Brunei, fish sold are mostly from the sea.
Yes because you're on the coastline. From the inline between Sarawak and Indonesia there's a fish called empurau, very much sought after in Indonesia, a 10-kilo empurau can cost up to RM1000 per kilo! They've started to farm it, but some people don't understand why it's originally so expensive. It's only found in three rivers in Sarawak, because the river bank grows this fruit called tengkawang (engkabang). The nut creates oil, one of the finest oils in the world, but when they started to farm this fish, they don't eat tengkawang. They eat nuts and fruits.
Do you also frequent hawker centers?
I think so. When I go to Singapore, I never think of western food. I'll take a cab to Tiong Bahru Market for my breakfast. In the afternoon, I go to Amoy Street Hawker Centre. I don't typically go to Michelin star places, I don't bother. I like real papa mama hawkers selling honest food.
You mentioned that you are doing a show in Brussels.
Yes in a restaurant in a five-star hotel, we do an Indonesian set menu for lunch and dinner and a few common popular dishes in their breakfast buffet. It was a success – over 16 days 80% of the patrons ordered Indonesian food. I did the same thing in Paris last February, which also did very well.
Korean Tourism Board has made you an ambassador, what do you have to do for that?
For four years, just for representation. They inducted me in Korea, and I did a six-episode program called 'Culinary Adventures of William Wongso' on the food of Korea in six different provinces, something I feel very lucky about. My program had me travelling within the region of Indonesia, and I also did eight countries outside of Indonesia. I would look for very local places to cook with local people, show the audience ingredients found in the market, things like that. But I don't do television anymore – it's a big commitment that takes up a lot of time.
And where will you be going after Brunei?
First, I think I'll be going to Saigon to visit my two little grandchildren! Then I'll be off to Korea – the chef of the last two presidents came to Jakarta and now wants to open a restaurant featuring some Indonesian dishes, so they're talking to my staff about how to make it happen. And then, I might go to Seoul, before I need to fly to Madrid for two weeks for a few events. In February I'll be flying to Paris because I'm the only Asian judge for the World Bakery Master Championship Final that features 18 contestants from 18 countries around the world. Then off to Los Angeles for a pop-up dinner for some technical assistance for the Indonesian consul.
So most of the time now, you do consultations and demonstrations?
Yes, I don't do restaurants anymore! I don't want to spend time in one place. That's not my job anymore. I want to share my experiences with younger people, and if they're good, take them along with me on my travels. Aside from my Head Chef, my team keeps changing, and I'll take anyone who has a passion for Indonesian cooking and can work together with other teams.
How long did it take for you to complete your book, 'Flavors of Indonesia'?
Six years! The problem for me is that I'm always running around! My publisher had to lock me up and make me finish. I'm surprised I even won that prize ('Flavors of Indonesia' is the winner of the Gourmand World Cookbook Awards).
It's a fascinating book! It has history, so much information that I never knew about.
It's the mystery of Indonesia. A lot of times people don't care about food. They just want to eat good food all the time. Well, good food all the time is MSG!
---
Follow William's culinary adventures on Instagram and Facebook. You can buy a copy of 'Flavors on Indonesia' online through Amazon and other online book stores.