Muslim Youth Camps Featured in the Brunei December Festival 2017
by Amal Kadir
Amidst the hustle and bustle of preparations for the upcoming month-long Brunei December Festival 2017, the Department of Mosque Affairs under the Ministry of Religious Affairs will be taking part of the festivities by conducting a 3 Day-2 Night program known as the Muslim Youth Camp.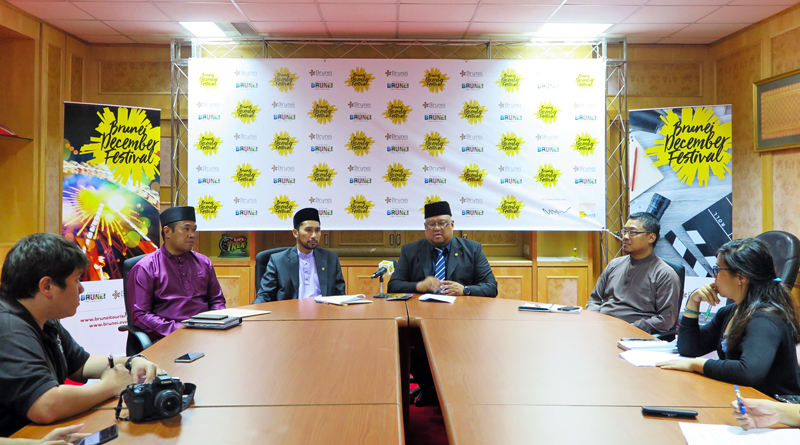 Present at the press launch held on 27 November to talk about the Muslim Youth Camp were Awg Wardi bin Haji Mohammad Ali, Deputy Permanent Secretary (Tourism) of the Ministry of Primary Resources and Tourism, and Pengiran Haji Haslin bin Pg Haji Ali, the director of the Department of Mosque Affairs of the Ministry of Religious Affairs. The press launch was held at the Ministry of Primary Resources and Tourism.
This event will be conducted in all our districts within the vicinity of the selected mosques.  The Tutong district will be the first to base their camp at the Pengiran Muda Abdul Wakeel Mosque in Kiudang from 8 until 10 December; the Temburong district is welcoming participants at the Masjid Utama Mohd Salleh, in Bangar, from 15 to 17 December; the location for the Belait camp is at Kuala Belait's Mohd Jamalul Alam Mosque, happening from 22 to 24 December; and lastly, the Brunei Muara district will be having their camp at the Sultan Sharif Ali Mosque in Sengkurong from 29 to 31 December, the last weekend of 2017.
The camp is aiming to engage Muslim youths and get them in touch with their spirituality through a series of both indoor and outdoor activities that include (but are not limited to) talks, site visits, religious  activities, and a spin-off of their own amazing race. Organisers are expecting about 500 participants across the nation to join in the Muslim Youth Camp ranging from boys and girls aged 15 to 25 years old.
Pengiran Hj Haslin Pg Hj Ali, director of the Mosque Affairs Department, hopes that with the establishment of religious camps such as this would encourage youths to spend their holiday doing something that can give them life-long practical knowledge and improve their attitude and moral values – thus, creating a rising generation that will be the beacon of hope for the nation.
The Muslim Youth Camp is included as an activity in the upcoming Brunei December Festival 2017 – an initiative led by the Brunei Tourism Board of the Ministry of Primary Resources and Tourism supported by various stakeholders that will feature a wide variety of activities to ensure there's something for everybody to enjoy.
Those who are interested in joining the Muslim Youth Camp are required to register at any nearby mosques or suraus in Brunei Darussalam prior to signing up for the camp.
For more information, call 2223277, Bahagian Imarah, Jabatan Hal Ehwal Masjid, Kementerian Hal Ehwal Ugama, Negara Brunei Darussalam.
For a full list of activities of the upcoming Brunei December Festival 2017, visit the Brunei Events website here.