The Dorchester Collection Afternoon Tea at The Empire Hotel & Country Club
by Intan Abu Daniel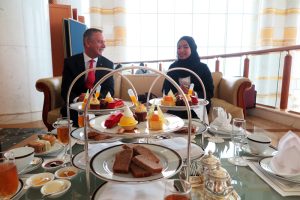 Bruneians are no strangers to the British ways, and so if a proper English afternoon is something you're hankering for, you wouldn't need to look very hard to get it in this country. But the crème de la crème of all English afternoon tea affairs in Brunei is most definitely The Dorchester Collection Afternoon Tea, held at the Lobby Lounge of the Empire Hotel & Country Club – a promotion that has visiting chefs from The Dorchester coming down to Brunei to give us locals a proper taste of an English afternoon tea.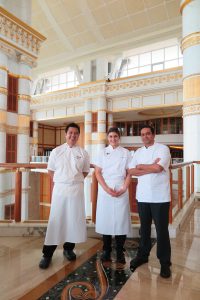 Promising a spread of English delights to please the local palate, the Dorchester Afternoon Tea has never failed to deliver and this year, made extra festive with His Majesty's Golden Jubilee just around the corner, they've succeeded once again. Helmed by Sous Chef Shreedaran Balasundaram with Junior Chef Konstantina Tsoumani and assisted by our local chefs, you may not need to dress up for afternoon tea at the Lobby Lounge, but this is a spread that you'll want to dress up for. In the royal yellow and red colours of Brunei, as the case may be here.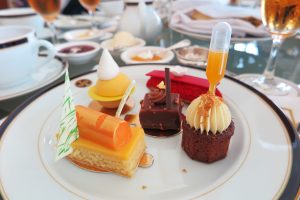 You can tell that the chef has had some fun with the cakes, as these brightly coloured desserts have been designed with the sultanate's flag colours in mind. Standouts include the Cardamom Financier that comes with a fruity Mango Saffron Cream on top, and a strawberry and hibiscus éclair with custard filling with a subtle fruity and flowery taste. A Citrus Bust cake comes with a pipit of citrus sauce so you can control the level of citrusy-goodness that you'd like (we squeezed all of that on and licked some up with our fingers after – not very genteel English behavior, admittedly), and the Dorchester Snicker is a cube of chocolate cake that tastes like a high end Snicker bar, which we cannot recommend enough.
The sandwiches are faultless – crustless little rectangles of artisan bread with an array of fillings. A waiter is constantly nearby with hands ready at the tongs to ensure that your sandwich needs are met, a service that is very much appreciated.  But the scones are the real champions here: you can't top a perfectly executed scone, and these springy offerings, tucked in a napkin to be kept warm, were served with generous offerings of clotted cream, strawberry jam, lemon curd and orange marmalade.
With His Majesty's Golden Jubilee in mind, this year came the introduction of the Coronation Chicken Pie – a pie that was served at the banquet of the coronation of Her Majesty Queen Elizabeth II in 1953. Tweaked slightly for the local palate, these warm chicken pies – dusted with gold – come with a chunky, creamy, spicy chicken filling unlike any chicken pie that we have ever tasted.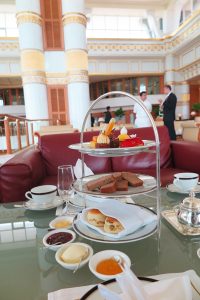 But what's an English Afternoon Tea without tea? A special selection of rare teas is available with a few classics such as the Earl Grey Supreme and the English Breakfast, and unique choices such as the Dragon Pearl Jasmine. We stuck with The Dorchester Blend, which boasted a blend of Sri Lankan Ceylon and golden Assam teas – perfect! And for the coffee drinkers, there are a few selections of staple coffee beverages such as cappuccinos, espressos and filtered coffee as well.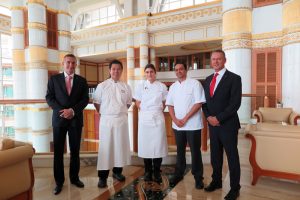 But one of the best parts about the Dorchester Afternoon Tea has to be reserved for the service staff, who are constantly standing on the ready, offering you refills (of which are free) without you having to ask for it. No slight to the current local staff at The Empire Hotel and Country Club who always offer great service, but the Dorchester Afternoon Tea here was made extra sweet by the visiting Head Front of House, Richard Spears, and his Junior Front of House Richard Skiba, who went the extra mile to ensure guests' needs were met with a friendly smile.
The Dorchester Afternoon Tea is available from 18th September to 8th October 2017 and accepts bookings from 1.30pm, 3pm and 4.30pm. Each group is allowed a maximum of 1 hour and 15 minutes of sitting. 
Price is BND28 per person (subject to 10% service charge). Refills are free. For more details and reservations, call them at 673-2418888.
For more information, visit The Empire Hotel & Country Club's website here. For updates, follow them on Instagram or Facebook.