An Interview with Team Kaleidoscope, the Artists Behind PENJAGA
Brunei made its debut at the Kota Kinabalu Eco-Art Exhibit that was held from 15 to 18 September, with Kaleidoscope Studio's installation art piece PENJAGA featured in Installation Art by the Bay at Kota Kinabalu.
Keeping with the theme of the exhibition, 'Eco Art Connects', PENJAGA is an installation that draws inspiration from Brunei culture and traditions, incorporating traditional 'anyaman' weaving and locally sourced materials to create an assymetrical shelter that also evokes the imagery of mosque domes in Brunei. Adding another facet to the art piece is the recorded sounds of nature from Luagan Lalak Forest Recreational Park, to connect viewers with a multi-sensory experience of Brunei's natural environment.
To learn more about PENJAGA, we interview the local artists leading the Kaleidoscope Studio team, Nur Khalisah (Lisa) Ahmad and Hariz Khalid, to learn more about the inspiration behind PENJAGA, the roles of local artists involved in its execution, the importance of art and what they think can be done for the Brunei art community.
Tell us about PENJAGA and the inspiration behind it.
Lisa: The theme of the art show is "eco-art connects" so on my part, I thought it would be great to create something that connects people to Brunei culture and the beautiful natural environment we have. I think at the moment that re-connecting with our culture and sharing our discoveries through art is something we are very interested in so it was a natural direction to include some sort of local handicraft in the piece. Hariz and I also do a lot of outings to Luagan Lalak to see the sunrise on the lake and we were very inspired how at sunrise, you experience the jungle waking up around you. In the end, the main inspiration was familiar elements of our cultures like domes and anyaman, and Luagan Lalak.
Hariz: We wanted the art to be reminiscent of our culture and the village life of Kampong Ayer, as that is our cultural heritage. I also was inspired by the chicken and ducks my grandmother keeps in her backyard, so we included the materials used to build shelters for these animals and incorporated materials used to build huts on farms.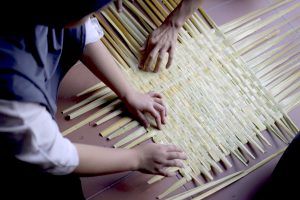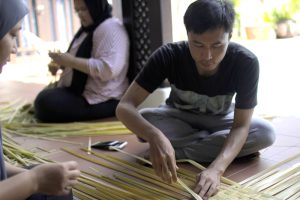 Can you tell us about the artists behind the installation?
Lisa: Hariz and I have worked together organizing acoustic sessions since the beginning of Kaleidoscope Studio, and he has started doing installation art after some encouragement by me. He's the creative director of PENJAGA, and he did a really god job, he's come along quite far since his first installation two years ago! The rest of the team are students from UBD who are still building their portfolios and finding their footing and interests, and it's great to have these young students as this experience gives them exposure and knowledge on what work needs to be done to start the project. I think this is the first time we're all working on a big installation. Hopefully next year we'll have more artist groups and input.
Hariz: We also had some help from my brother Haziq, who's studying architecture in Leicester. He helped translate our initial models into a plan that we could use to build the actual structure.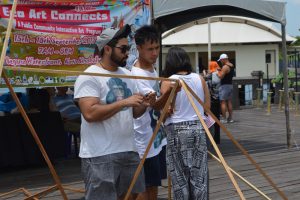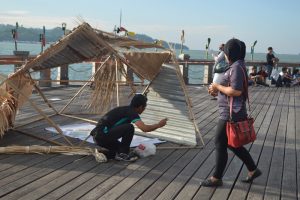 PENJAGA is a work of creative collaboration. What are the advantages and disadvantages of working in a group rather than as a single artist?
Lisa: An installation is a lot of work so a team is definitely needed to execute the plan efficiently and within the timeline. My team right now is amazing! When you work in a team it's important that everyone gets involved and does the work, and even though we are a team, there needs to be a lead and everyone needs to respect each other's roles.
Hariz: There weren't many challenges because we have a good team, and we assigned each person with a role based on their strengths.
Do you think art is an effective vehicle for promoting cultural understanding?
Lisa: I think that art is the way to promote cultural understanding. Culture is an experience that can't be fully explained with words, and is expressed more commonly through artistic activity from dancing to painting to music. Art can record or document cultural ideas but it can also reinvent and add unique perspectives to it.  I think everyone on the team has gained some appreciation for 'anyaman' and has felt that it has brought them closer to their roots, and given them a different understanding of what their elderly family figures experienced in their time, making the things that we can just buy nowadays.
Hariz: Actually while we were setting up we had people come up to us and tell us that it was reminiscent of their villages and camping in the jungle! So yes, I think it can be very effective.
Sounds of Luagan Lalak also feature as a part of the installation. Can you explain the reason behind that?
Lisa: Luagan Lalak is one of our favourite places in Brunei. It has an untouched atmosphere and from the sounds you can hear the diversity of fauna there. We go there at four in the morning, surrounded by mist and darkness, but when light starts to break you can slowly feel the surroundings come alive with light and sound. It was something we just had to include, something beautiful and inhuman – completely natural. The sound element also makes the installation a multi-sensory experience, and hopefully people will appreciate it and feel how relaxing nature can be and maybe thing, in our cities we don't get to hear this natural orchestra play. When I hear it I'm reminded that it's something we should preserve and remember. It's just another way of connecting with Brunei and its environment.
Hariz: We just wanted to share the beauty of nature. We strive to develop our cities and sometimes neglect the sights and sounds of the jungle that are, thankfully, still in abundance in Brunei.
What do you hope to convey with your installation?
Lisa: The installation speaks of living sustainably and in tandem with nature. Nature can shelter us, provide for us and sustain us. Our installation is made of recycled materials and sustainable materials like nipah leaves to remind us that before we lived in buildings and cities, we lived in shelters in the jungle made from gathered materials. It's to encourage people to take time to view their surroundings and also appreciate the music of nature. On culture, we just wanted to include and reinvent a well-known handicraft and make use of it in a different way – there are many ways we can stay true to our roots but also stay contemporary. The shape of it conveys that contemporary aspect – it's dynamic, it's abstract and it's different, but so familiar.
Hariz: I hope people see art as something fluid and not limited, and I hope that we can show that art is really about expressing yourself, relaying messages and themes, while having fun doing it. There's no limit to creativity! But I also hope that our artwork will inspire our locals to participate in activities outside of the country and expand their horizons in doing what they are passionate about.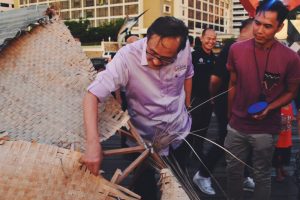 In your role as artist, curator and promoter of art, what do you feel is unique about the Brunei art scene and how can it be promoted internationally? What are its strengths and weaknesses?
Lisa: I think the Brunei art scene is still so young and there's so much potential and artists here aren't too influenced by outside ideas. Right now, artists can really start to define what Brunei art is like and what it's all about. In many countries, art is very political or very conceptual but we have the choice to decide what direction we take with it and create our own aesthetic. I think that's our strength – we haven't defined ourselves yet.
Our weaknesses are that it's hard to be a full-time artist in Brunei and there are some restrictions on what we can express. There definitely could be more support for the arts in Brunei and more recognition of how arts can benefit the community, beyond just charity art exhibits.
In the future, I would like to see artists really experiment and think outside of the box – art is limitless and we don't have to be stuck only doing traditional paintings and landscapes.
Since you first started Kaleidoscope and up until today, what has changed most about the art scene in Brunei?
Lisa: There's a lot more going on! Art groups are popping up here and there which is great! Different groups mean more diversity and perspectives and this is important. I would say we are still in the community building stage but it's growing. I think there is more support and people are starting to get more courage in putting themselves out there as artists. It's really nice to see.
Kaleidoscope Studio is based at the iCentre in Anggerek Desa, and provides a platform for creatives to showcase their talents, connect with each other and collaborate. More information on the studio can be found on their website here.