Explore the Lost Mines at the Sarawak Adventure Challenge

"Sarawak Adventure Challenge – The Lost Mines" is calling all thrill seekers for a one-day multi-sport adventure race that will showcase the incredible terrain of Bau, Sarawak. To be held on 14 October this year, the event aims to deliver on Sarawak Tourism's marketing tagline: 'Where Adventure Lives' by giving participants a chance to truly live the adventure.
Themed 'the Lost Mines', participants will have the chance to experience an Indiana Jones explorer vibe by taking on a course that features an exhilarating combination of mountain biking, trail running and cave running through the area's colourful mining history, while passing through scenic rainforests, rivers and caves of Western Borneo.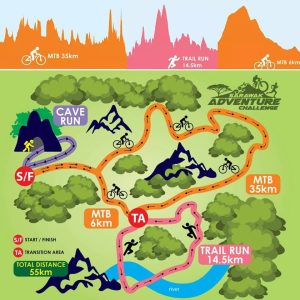 Participants will have the chance to enter into two categories: men's open team and mixed team. The winning teams will have the chance to win a cash prize of RM6,000 in each category. Cash prizes will also be awarded to the top 14 teams in each category.
The event is expected to see a big turnout of mountain adventure sports enthusiasts. Datuk Abdul Karim Rahman Hamzah, the Minister of Tourism, Arts, Culture and Sports, shared, "This event has already attracted the attention of a number of top-ranked regional teams and about 150 participants are expected this year."
This event is supported by the Sarawak Government through the Ministry of Tourism, Arts, Culture, Youth and Sports, Sarawak Tourism Board, Tasik Biru (N2) and Serembu (N18) constituencies and Bau District Council, and is endorsed by Tourism Malaysia.
 The event is held in conjunction with What About Kuching (WAK) 2017, a month-long festival that celebrates the arts, culture and lifestyle of the people of Kuching from September 30 to October 29.
 The race is organised by Draco Action Sports, a joint venture between travel industry and outdoor sports veterans BorneoAdventure and Paradesa.
Registration is open until September 5. For more information, visit their website or their Facebook page.