The Café BBQ, Miri
by Intan Abu Daniel
The Café BBQ is not a barbecue in a café, but the number one chicken restaurant franchise in Korea. In fact,  the branch that we visited at the Permaisuri Imperial City Mall in Miri is just one of 4,150 outlets in 59 countries. But for those unaware, here's a quick rundown: The Café BBQ offers the best of Korean fried chicken, also serves Korean cuisine, and BBQ stands for 'Best of the Best Quality'.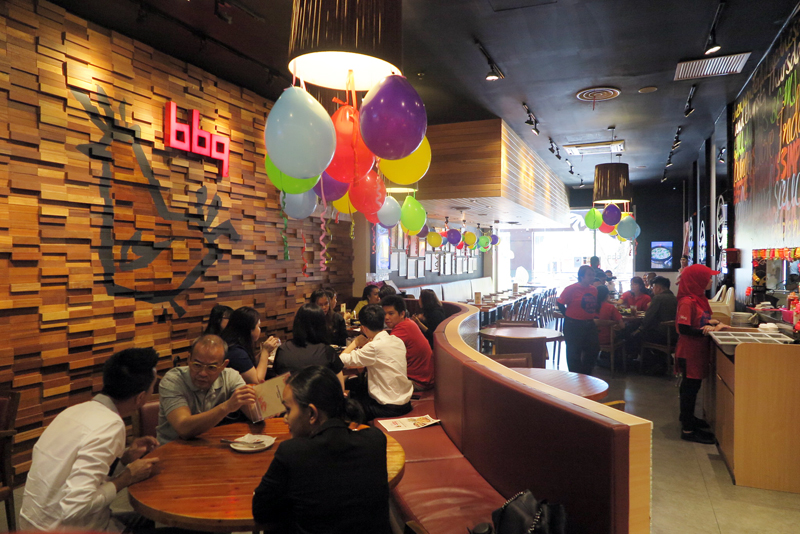 The Café BBQ in Miri launched a new menu last week, which features a diverse range of Korean food and a few fusions of Western and Korean that would appeal to the Korean food newbie. We love any version of fried chicken presented to us, so let's start with their famed Korean fried chicken. We were served a 4-combo plate that serves four types of sauced fried chicken: Hot-hot, Cheesling, Gang-Jeong and Kanjang. We are informed off the bat that all chicken served in The Café BBQ are not frozen, all chilled and fresh, and are cooked in 100% olive oil. Whatever their magic, we can assure you that the fried chicken is crispy and gives you a satisfying crunch to your bite without feeling like you're about to break a tooth. Each piece was seasoned well all the way through, so there's no urgency to scrape your fried chicken against the leftover sauce on the plate. Greasiness? Nary a greasy spot in sight. A half-dozen variety of sauced chicken are available, and it's going to be our mission to try each one of them the next time we're in town.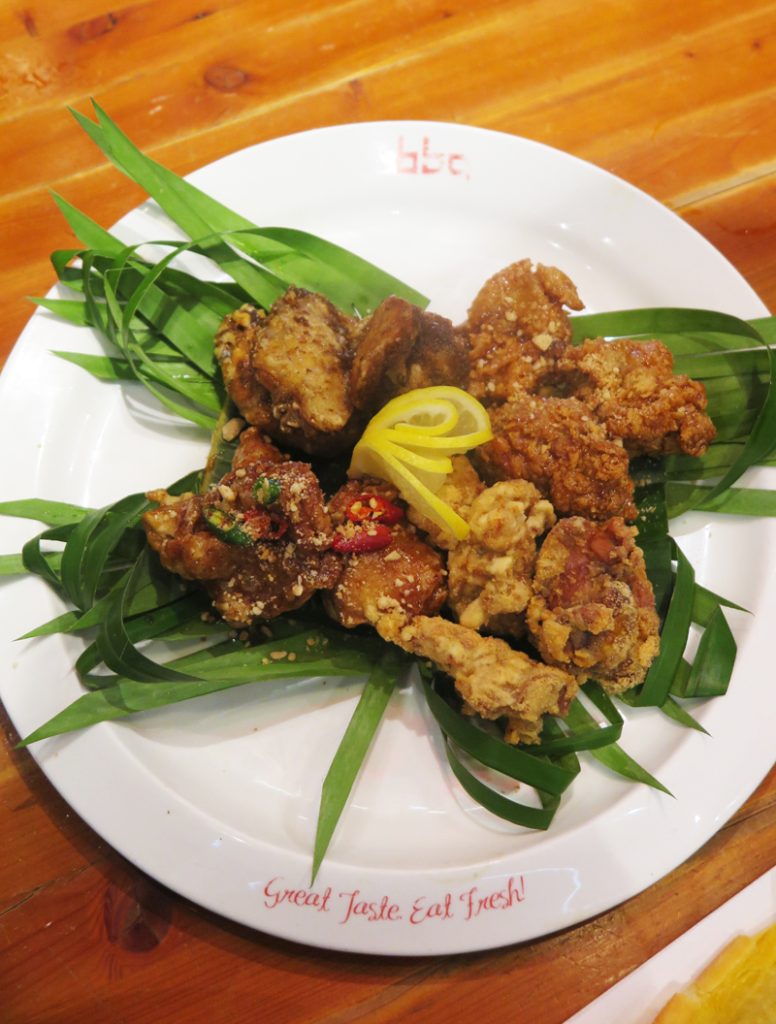 A 4-Combo Plate of Sauced Fried Chicken 
Frankly we would have been happy just eating the fried chicken, but unfortunately, one cannot live on fried chicken alone (although we like the idea). We veg-ed up on the Sweet Pumpkin – Cajun Salad – a simple and tasty salad with tender chicken pieces, cubes of sweet pumpkin, black olives, cherry tomatoes, almonds and greens served with a side of light honey mustard sauce.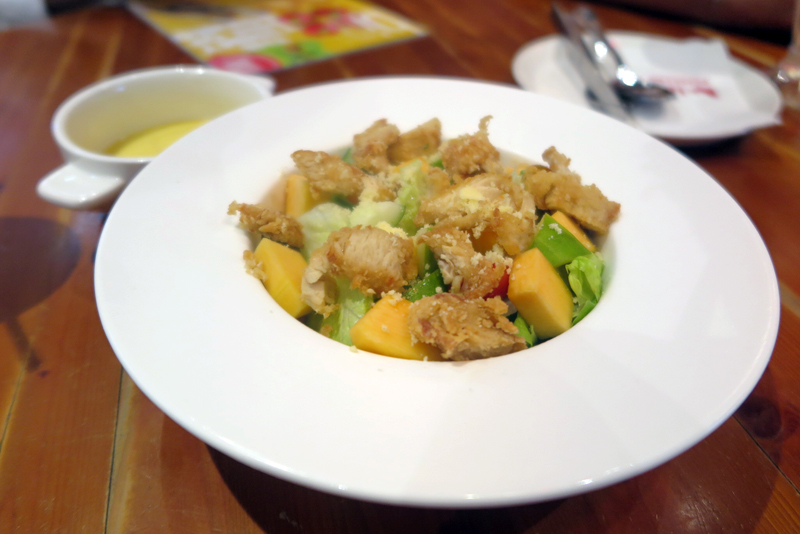 Sweet Pumpkin – Cajun Salad
After that, we dived into hearty Korean fare. The Tuna Jumokbap featured tuna mayo and vegetables nestled in between a freshly cooked rice ball, which was served with baby potatoes, stir-fried vegetables and grilled jerk chicken, and the Bulgogi (Beef) Bap-Burger Meal, which has the classic Korean grilled beef along with cheese, vegetables and sauce on top of a Korean rice burger, served with baby potatoes and stir-fried vegetables. Then with a twist on Western cuisine, we were served a Grilled Chicken Spoon/Bulgogi (Beef) Pastry Pizza – a real delight to the eyes: bulgogi and a bed of fresh greens and cherry tomatoes drizzled with balsamic sauce on top of a square-shaped flaky pastry base.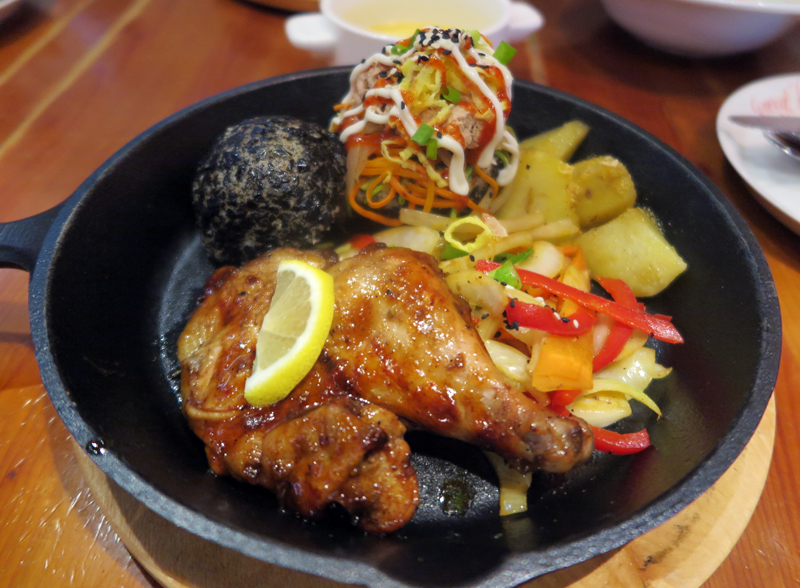 Tuna Jumokbap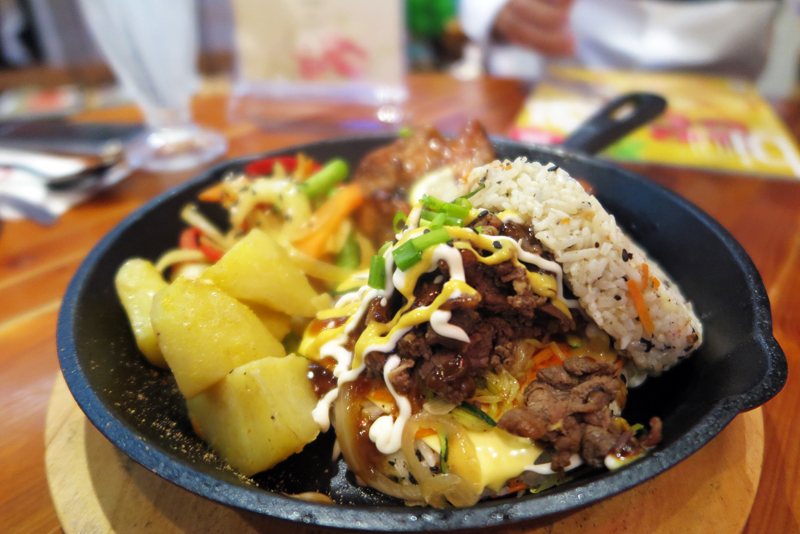 Bulgogi (Beef) Bap-Burger Meal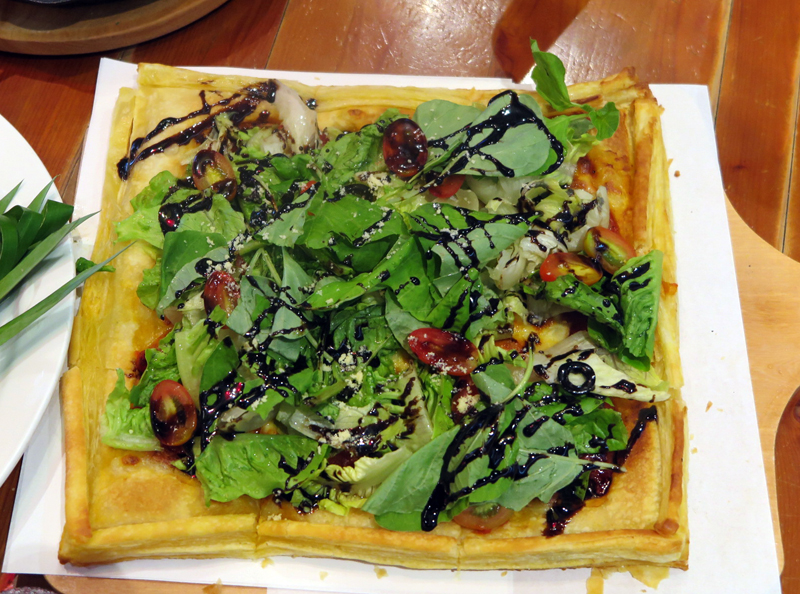 Grilled Chicken Spoon/Bulgogi (Beef) Pastry Pizza
Korean comfort food comes in the form of a bowl of Kimchi Chicken Dol-Sod Bap, which has kimchi and charbroiled chicken on top of rice. All the kimchi elements are accounted for, resulting in a tangy and mildly spicy meal that was simply delicious.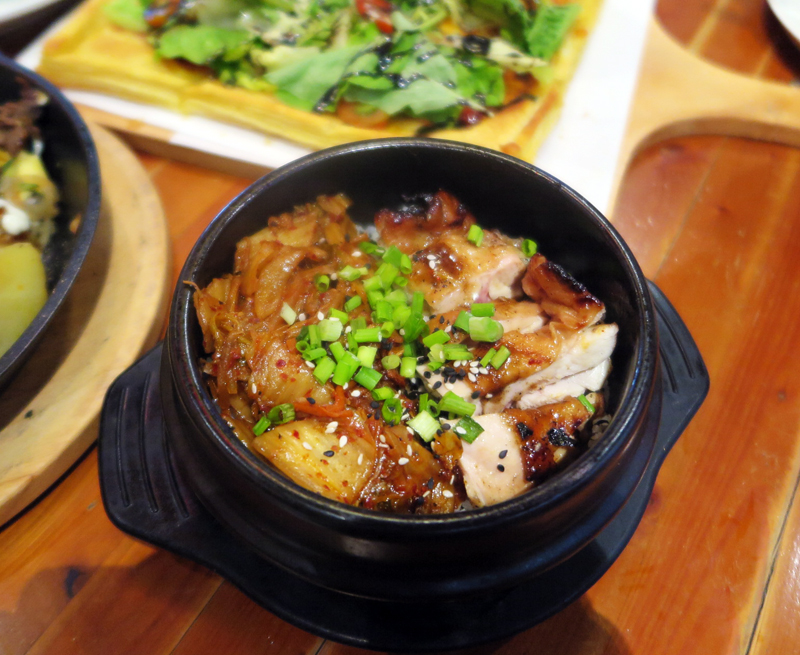 Kimchi Chicken Dol-Sod Bap
So for the unaware, this is not a café with a barbecue in it, and there's a reason why this is the number one chicken restaurant franchise in Korea. Come on in, take a seat, have a meal, and make sure you order the fried chicken too.
The Café BBQ is certified halal, and is located at:
Lot ICM7, ICM7A & ICM7B, Ground Floor, Permaisuri Imperial City Mall, Miri, Sarawak
Tel: 6085-431515
Photos by Shaf Said