From the Garden to the Kitchen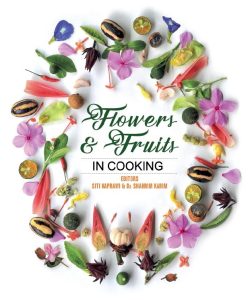 Siti Kaprawi is no stranger to local ingredients, or publishing. Amid her many successful publishing projects which includes a book on orchids in Brunei with botanist Dr Idris Said, her first cookbook, 'Flavours & Colours', was awarded The Gourmand World Cookbook Awards 2012 in Paris. She published a second cookbook 'Spice of Life – Recipes & Remedies' in Malaysia in 2015.
Continuing this tradition of producing colourful and insightful cookbooks with local and regional ingredients at its heart, Siti Kaprawi's love for nature and food comes together perfectly in 'Flowers & Fruits in Cooking' – a cookbook that incorporates cooking with a treasure trove of natural ingredients from fruits to flowers.
Using fresh ingredients such as tropical fruits and edible flowers such as papaya blossoms, hummingbird flowers and banana flowers add texture, colour and unique flavours you wouldn't find in store-bought products, and the book also highlights the importance of presentation in a dish in order to make it look appetising.
Offering both tried and true regional recipes and fresh ideas to enjoy nature's bounty, the cookbook features 29 professional chefs, cooking enthusiasts and individuals from the region contributing to 80 delectable recipes, from soups to desserts and preserves to drinks.
Flowers & Fruits in Cooking was edited by Siti Kaprawi and Dr Shahrim Karim and published by Astera Consultant. Flowers & Fruits in Cooking can be found at Nolly Book and Best Eastern bookstores across Brunei. The book is also available for purchase online at www.amazon.com.