Diners Win Big At RBC's Taste of Thailand Food Festival Dinner Buffet
Seasons Restaurant provided diners the great opportunity to win big just by dining at the Taste of Thailand Food Festival Dinner Buffet. And win big they did! Wide smiles and happy faces were aplenty at the prize presentation ceremony held at Seasons Restaurant on 12 October 2018.
Sam Ying Kok, winner of the grand prize, found himself the lucky recipient of a return ticket for one to Bangkok sponsored by Century Travel Centre Sdn Bhd. Hamiza Hj Mohammad Ariffin was presented a RBC Dining Voucher worth BND200 as he came in as the second place winner and another RBC Dining voucher worth BND100 was presented to third place winner, Haszrin Bin Matani.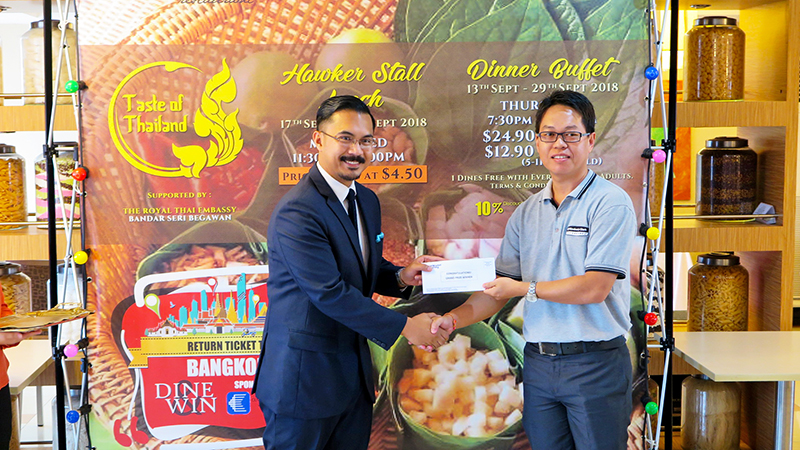 Presenting the prizes was Haji Jeff Hadiman Bin Dato Paduka Haji Danial, the Acting General Manager of Royal Brunei Catering.
The Taste of Thailand Food Festival 2018 was organized by the Royal Brunei Catering Sdn Bhd in association with the Royal Thai Embassy in Brunei.
Hoping to be the next lucky winner? Be the first to hear about it by following @royalbruneicatering on Instagram and Facebook or checking out their website for more updates and future promotions. (Psst! We hear there are great promotions to be enjoyed almost every week! Yay to getting the most out of our dining experiences!).