When Man and Mountain Meet: An Interview with Mohammad Vol

Mohammad Vol is a man of many hats. A retired army officer now entrepreneur, he is a photographer, bird-watcher and an activist for the conservation of endangered marine species. He is also an avid lover of nature and a fitness freak. Combine the two and his years of experience as a mountain trekker, destination and trail runner, culminates into the man that he is today: at 53 years young, ready to conquer one of the greatest adventure treks in the world. The K2 Gondogoro La Trek will have trekkers traversing grueling mountainous over a span of 22 days, through villages and valleys starting from Skardu and ending at Hushe Valley, all the while witnessing some of the most breathtaking views you could ever hope to see.
Having completed the Everest Base Camp (EBC) trekking in April 2018, the K2 Base Camp was the next logical choice for Mohammad Vol. Armed with the motto "It's not easy to kill a Bruneian", Mohammad Vol and the EBC troopers, as they called themselves, faced the very real struggles and increasing difficulties of the trek, and emerged victorious. And while the K2 Mountain might rank as the second tallest mountain in the world at 8,611 metres, it's also considered the most savage, and should not be attempted without long haul mountain terrain backpacking experience or if you're below the fitness level required. It is bare bones roughing it, without a bed and breakfast in sight, and the term 'roughing it' brings a whole new meaning for participants of this trek.
While taking on a mountain trek as devilishly tricky as this one might be another accomplishment point for Mohd Vol, there are other reasons why he wants to conquer this trail.
"Besides my love for the wild outdoors, I want to set an example to the local youths and encourage them to go out and explore the world," Mohd Vol said. "And in doing so, represent our country to others and be proud of being a Bruneian. I believe Bruneians are dynamic, high-spirited, strong-willed and passionate people – they can do anything."
Preparing for the K2 Gondogoro La Trek
Physically:
For a mountain trek of this magnitude and with the fitness level that Mohd Vol is currently at, he prepared an intensive training plan two months ahead of the trek, but for those who are not as fit, a minimum of four months training is recommended.
The staple of his training is High Intensity Interval Training (HIIT), a cardiovascular exercise strategy that alternates short periods of intense anaerobic exercise with less intense recovery periods.
"In my opinion, HIIT is a must for mountain trekkers," Mohd Vol said. "Other that helping in building and maintaining muscle strength, it also builds balance. And once you have balance, your strength increases overall. But most importantly, HIIT will condition your central nervous system to highly intense workouts and the recovery from it. Your heart will be more fit, and your whole body's absorption of oxygen will be more efficient. This helps your body acclimate to the conditions of the mountain, which has a low oxygen environment, and help to avoid mountain sickness."
He couples this with endurance run/haul training, which involves hauling a 30kg pack up a steep incline for two hours a day, gradually increasing it to four hours a day (with an interval). He also does cross training in between with exercises such as spinning, swimming and yoga, just to diversify from his usual routine.
Mentally:
Stepping outside of your comfort zone into a wildness environment with no modern facilities in a cold landscape requires mental fortitude, and Mohd Vol's desire to conquer one of the most difficult mountain treks in the world needs mental preparation as much as physical.
By keeping himself well informed of the trek and keeping in regular contact with the trekking agent in Pakistan, ensures fewer surprises. He also takes the time to do extra research about the trail, taking advice from others who have done the trek and making an assessment of their reviews. In doing so, he identifies the dangers and risks of the upcoming trek and is therefore prepared for them.
"Another important thing to mentally prepare for is to learn how to adapt in foreign land. Adjust yourself quickly to the environment and the people around you. Be conscious and sensitive to their culture and tradition. Listen to the lead guide, and ensure before you go on this trek that you have an experienced and professional guide."
"Teamwork is also important. Bond with the rest of the team, and make sure you understand and complement each other's strengths and weaknesses."
Dietary:
Mohd Vol has always kept his diet clean, with high protein and vitamin intakes, in accordance to his training schedule. However, nearing the time to trek, typically four weeks before the day, he starts loading up on high calories to maintain muscle strength and build up fat reserves.
Mindset:
"To me, it's more about the journey than the destination. Capitalise your time spent there positively, consciously and spiritually. Be observant and learn from your surroundings, contribute and help whenever you can along the way. And team up, make friends, and make the experience enjoyable for everyone involved."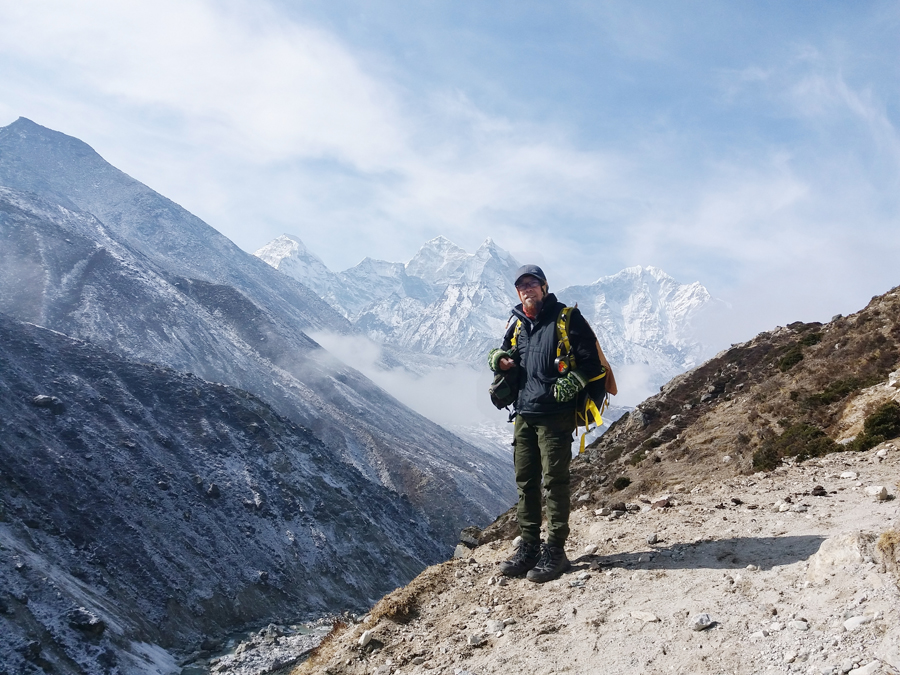 Tips for future mountain trail seekers:
Mohd Vol advises, "If you're a beginner, level up slowly. Start with the smaller mountains, like Mount Kinabalu, and learn how your body functions in high altitude. Research thoroughly, engage with those who have experience, leave your ego behind and listen to your body."
Mohd Vol would expresses his extreme gratitude to his main sponsor of his trip, HAZ Fitness Studio. He would also like to thank Imperiall Sport and Keris Perdana Garment for sponsoring his trekking gears and training attire.
Learn more about the K2 Base Camp via Gondogoro La Trek trail by visiting their website: www.k2basecamptrekking.com.