Village of the Head-Hunter
By Pamela Fletcher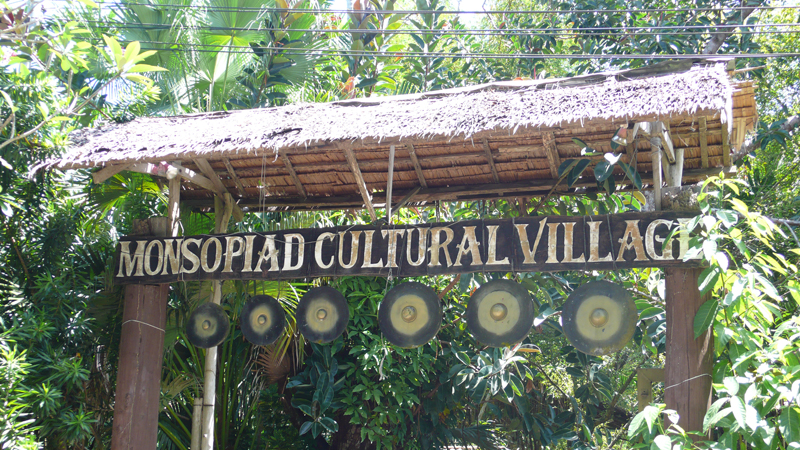 Nestled beside the Penampang River, the tranquil and neatly laid out Monsopiad Cultural Village is a stark contrast to the tradition it symbolizes. For hundreds of years, head-hunting was a way to exert supremacy over rival tribes and control over the most fertile lands. Monsopiad lived in the village of Kuai in penampang some 200 years ago and was well-known for his exploits as a head-hunter. The 42 skulls that now hang in the rafters of a specially built house called Siou do Mohoing, is a testament to Monsopiad's bravery and prowess that made him one of the most feared head-hunters of his time. It is a fascinating history that has been retold through the centuries by his descendants who still live in the same village. Exhibited artifacts, photographs and paraphernalia used in rituals to appease the spirits of the skulls are kept here as a reminder of a man who, despite his courage and love for his village, had an insatiable bloodlust that eventually brought his downfall at the hands of his own people.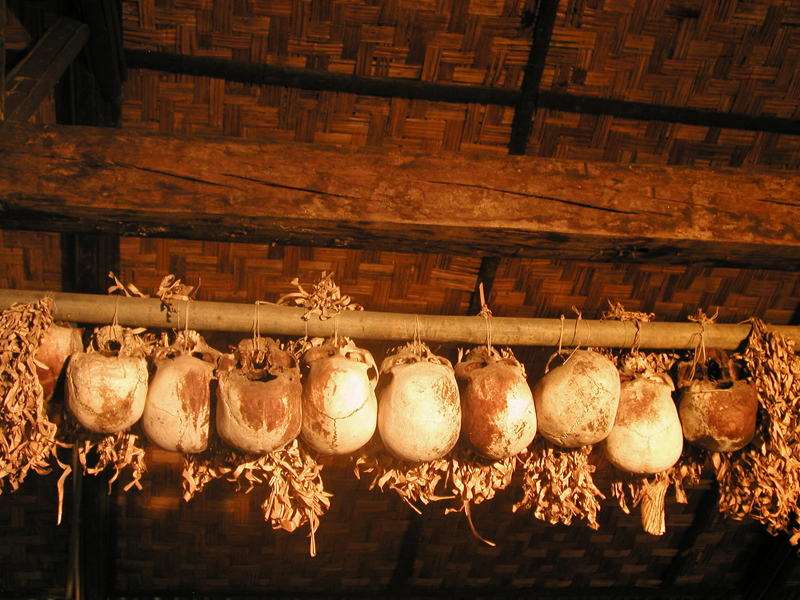 The Monsopiad Cultural Village was set up in 1996 to preserve this very important part of the Kadazandusun culture and heritage. Replicas of a traditional kadazandusun house and storage units to keep essential everyday items are displayed such as the tangkob or grainery where paddy is stored, ceramic jars, paddy grinders, bamboo utensils, woven textiles and rice-making equipment. Costumes, ritual paraphernalia and old photographs share the same space as the skulls in the House of Skulls which is located across from the model village.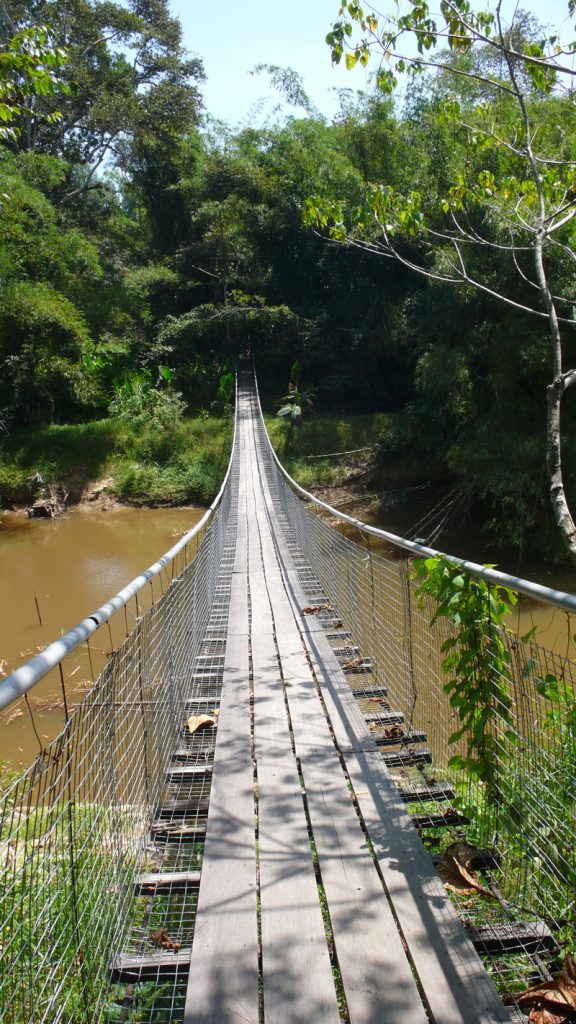 Contrary to the aggressive nature of its head-hunting past, the Kadazadusun people do have a softer side which is delightfully demonstrated through their music and dance. Their music, predominantly made with bamboo instruments and brass gongs, can be mellow or lively depending on the occasion. Their costumes are conspicuously simple in classic black with minimal accessories for both men and women but it is the high-priestess' costume and accessories that are truly impressive and are displayed in its full glory during the community's annual Harvest Festival or Kaamatan which is celebrated every year in May. Daily cultural performances are put on for visitors at the end of their tour to the village with an evening show that is opened by a spectacular fire dance performance.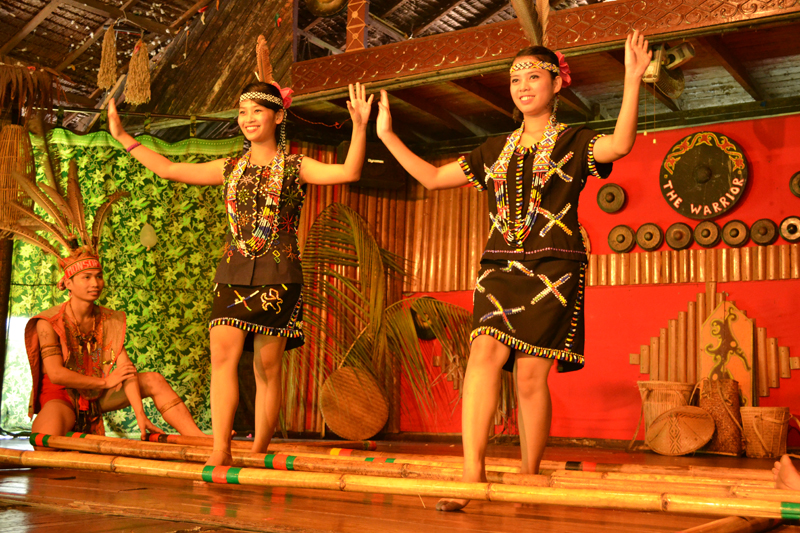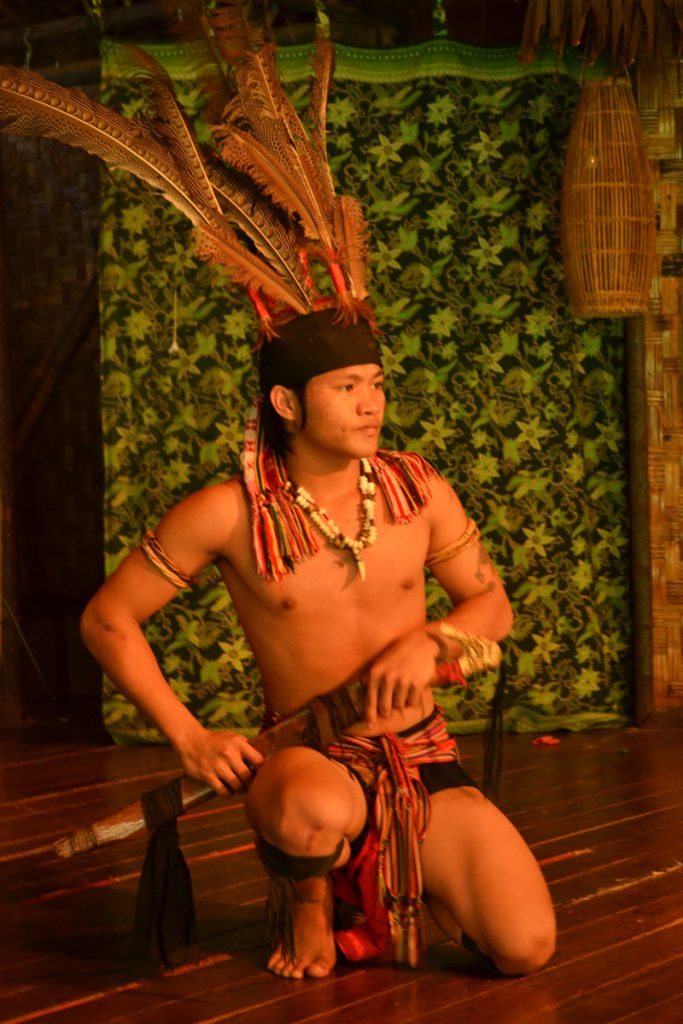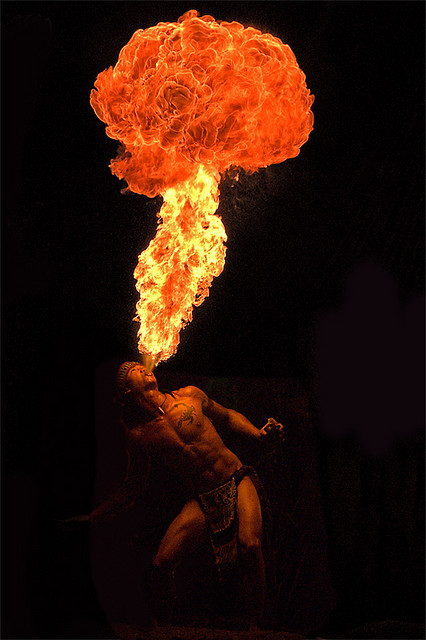 The Monsopiad Cultural Village is the first such village built to honour the culture and heritage of Sabah. Bigger and more elaborate cultural villages have since been erected but the Monsopiad Cultural Village remains a unique place where real history happened.
Planning a visit? For more information about the Monsopiad Cultural Village, visit their website here.
This article first appeared in the April-June 2015 issue of Borneo Insider's Guide magazine.
Images courtesy of the Monsopiad Cultural Village