A Nationwide Gastronomic Feast
by Intan Abu Daniel
Brunei's 33rd National Day celebrations have come and gone and with it, the first ever Brunei Gastronomy Week. Initiated by the Brunei Tourism Division of the Ministry of Primary Resources and Tourism (MPRT) to create awareness on local cuisine to the public, the Brunei Gastronomy Week was a gastronomic success, with 16 of the country's top hospitality establishments serving their elevated version of local cuisine during the five-day promotion.
From appetizers to desserts, each participating establishment featured dishes that are uniquely Bruneian, such as bamboo chicken – a traditional Iban dish typically served during festivals like Gawai, and nasi katok – a popular economical meal that takes the form of white rice, a cut of fried chicken and sambal wrapped up in brown paper.
The local chefs at The Empire Hotel & Country Club concocted a set menu comprising local comfort food amped up to fine dining standards, such as Sup Ayam Berempah and Loin of Lamb Rendang served with homemade kelupis. Their desserts were local treats with flair, featuring a westernized strawberry seri muka and a spectacular yam flavoured Brunei cheesecake.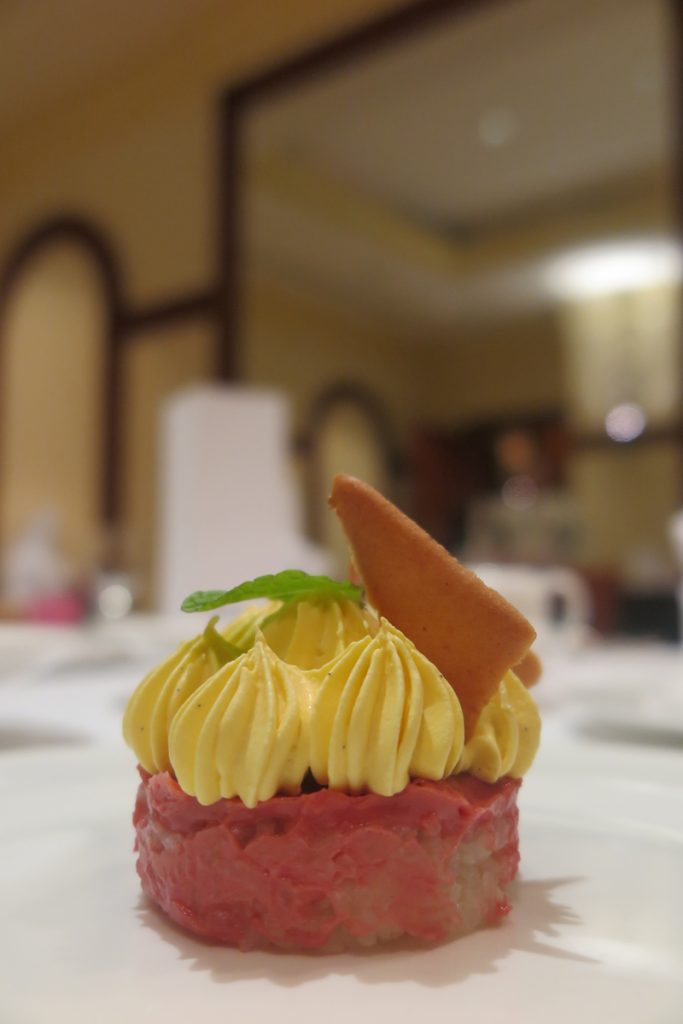 Strawberry Seri Muka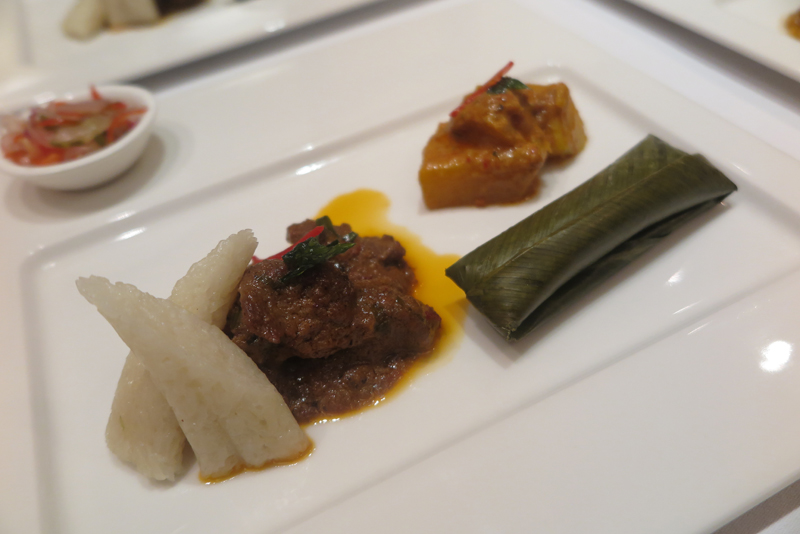 Loin of Lamb Rendang
URBN Kitchen, a restaurant that only opened its doors last year, brought local cuisine up to gourmet levels. Their Deconstructed Nasi Katok was a deluxe interpretation of the simple meal loved by Bruneians, and their indulgent Lela Menchanai dessert featured a combination of ingredients from kek batik crumble to pandan micro sponge and complemented by a bar of Magnum ice-cream.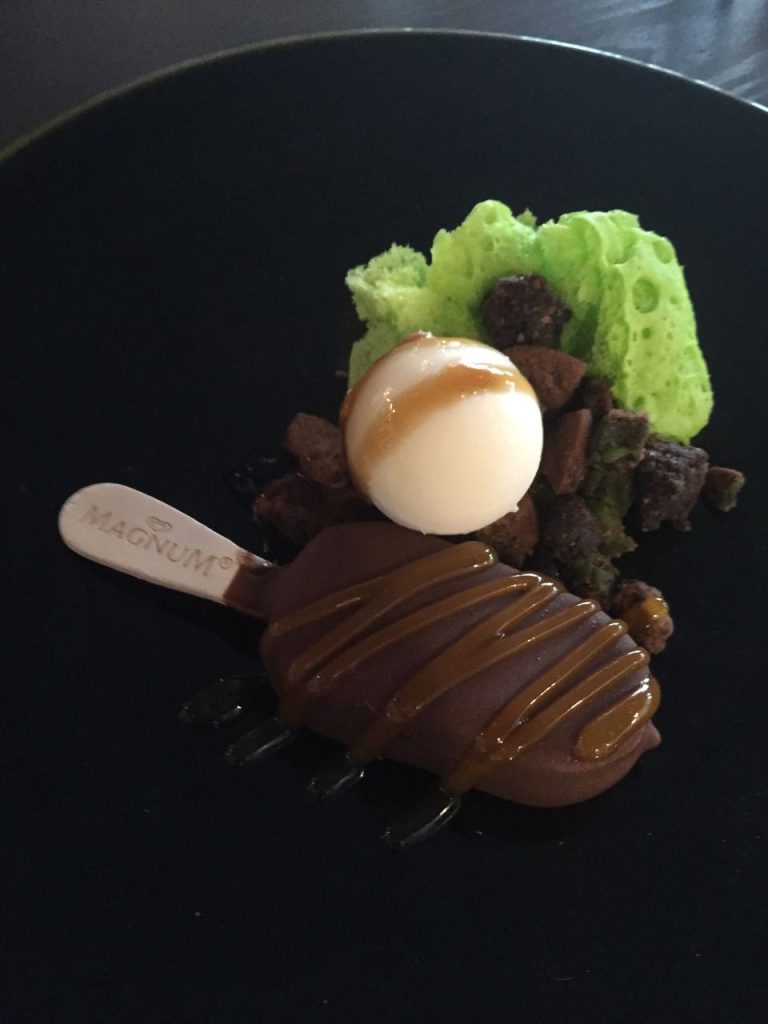 Lela Menchanai dessert by URBN Kitchen
The Brunei Hotel offered their own deluxe interpretation two of Brunei's popular meals: bamboo chicken and nasi katok. The bamboo chicken dish had spicy fried rice topped with ikan bilis and a side of pakis (jungle ferns) to complement the aromatic bamboo chicken – as good in presentation as it was in taste.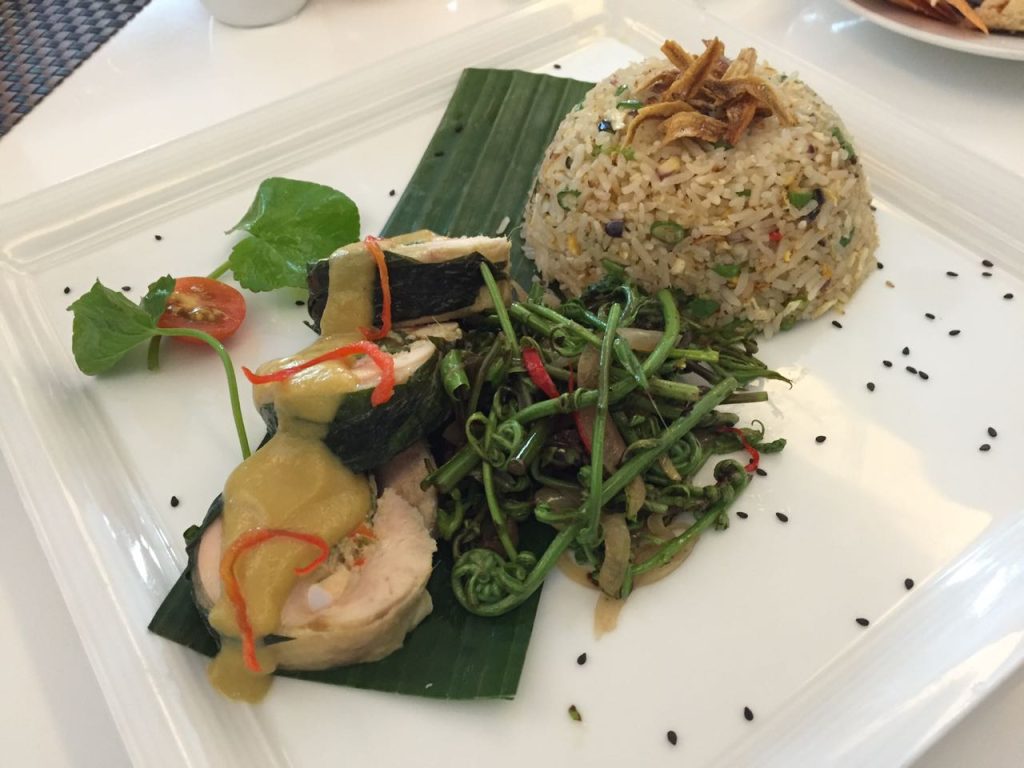 Bamboo chicken dish by The Brunei Hotel
MyTown Eating House, The Coffee Bean & Tea Leaf and Charcoal BBQ & Grill Restaurant added a ubiquitous local dish to their ala carte menu. MyTown's Special Kolo Mee was a satisfying plate of noodles served with curry sauce with a side of tiger prawns, topped with crispy fried chicken skin. The Coffee Bean & Tea Leaf cooked up an Asian version of aglio olio with chicken breast mixed with pumpkin and okra. Sticking to what they are indisputably good at, Charcoal BBQ & Grill came up with a meaty dish of Grilled Hoisin Lamb Cutlets with double sweet potato puree served with plum and mint sauce and mild chili paste.
Asian-inspired aglio olio by The Coffee Bean & Tea Leaf
Participating restaurants and hotels such as Radisson Hotel, The Rizqun International Hotel, Orchid Garden Hotel, D'Anggerek Serviced Apartment, Seasons Restaurant, V-Plaza Hotel and Keoja Hotel offered buffet promotions featuring an extensive variety of local food. From local cuisine such as ikan masak asam pedas, umai, kerabu, kembayau soup, belutak fried rice and an inspired Udang Galah Durian Cili Padi to beloved desserts such as wajid, penyaram, kek batik and ondeh-ondeh, and national dishes bamboo chicken and ambuyat – the buffets elevated Brunei's comfort food to high-end tastes.
Also offering buffet promotions were Brunei's popular purveyor of local cuisine, Tarindak D'Seni and Tarindak d'Polo, which included the beautifully prepared Brunei Bamboo Chicken ala Tarindak – their own presentation of this famous local dish.
On February 23, Brunei's national airline carrier Royal Brunei Airlines served National Day specials such as nasi katok with acar and bubur Si Bujang to passengers in regional flights, and wajid Temburong for dessert in long-haul flights.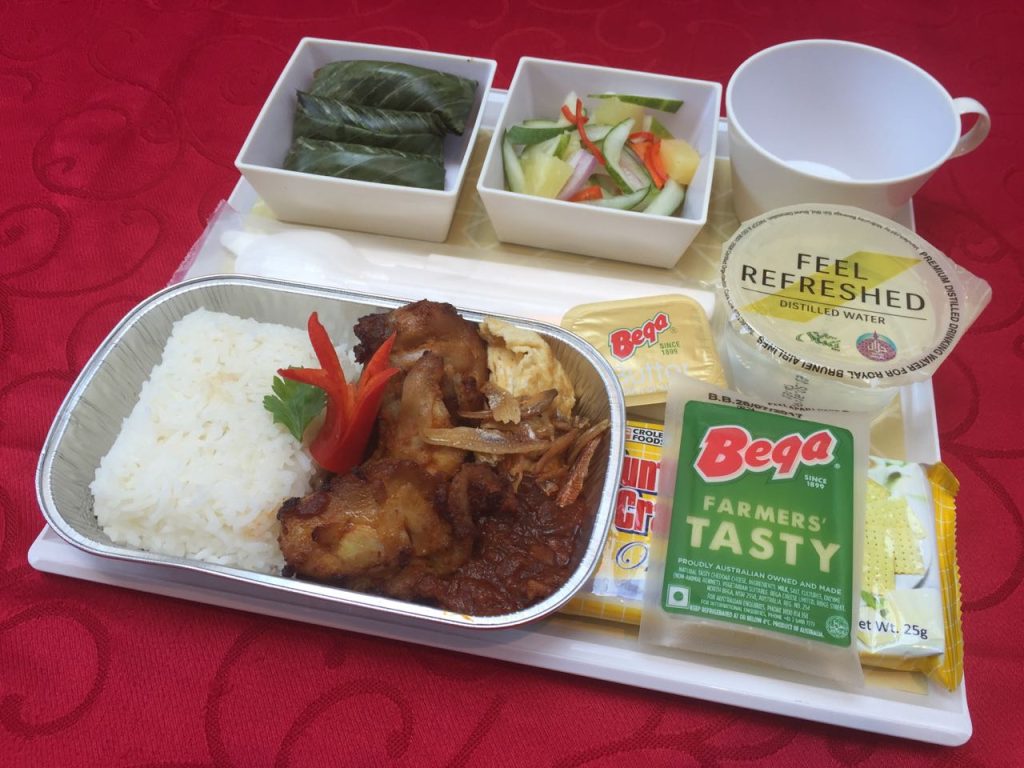 Nasi Katok with Acar and bubur Si Bujang served on RB regional flights
As an added highlight, the dishes served by all the participating establishments during Brunei Gastronomy Week was reviewed by appointed judges who sampled the dishes and judged them according to a set of criteria. The winners will be announced at the Tourism Industry Award ceremony which will tentatively be held in April this year.
Check out all the dishes at Brunei Tourism's Facebook page and Instagram.