Local cuisine dazzles at The Empire Hotel & Country Club
The Brunei Gastronomy Week kicked off on February 22nd with a host of establishments bringing out their best versions of local cuisine to the public.
The Empire Hotel & Country Club is participating in the Brunei Gastronomy Week with a special promotion at Spaghettini's – a three-course set dinner featuring excellent choices of high-end local cuisine. For every course, guests get to choose from three offerings.
For starters, the choices are Acar Ikan, a pan-fried marinated sea bass resting on a bed of sautéed fiddlehead (pakis) with julienned vegetables on top and served with a sambal made from local ingredient membangan fruit; Sup Ayam Berempah, made with local spices rarely used in a five-star dining establishment; or a Wing Bean Salad  with wing beans (kacang belimbing) and local potato chips coated in chili sauce (keropok ubi) sprinkled on top.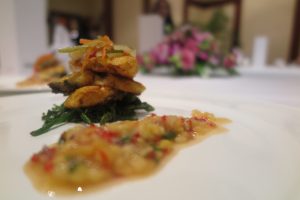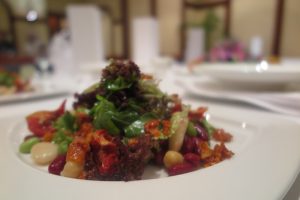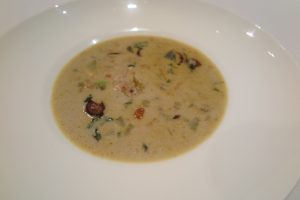 The crunchiness and sweetness of the keropok ubi on top of the Wing Bean Salad makes this a Western dish with a local flair, and the Acar Ikan served with the tart sambal is a dish we could rave about, but the spotlight here belongs to the Sup Ayam Berempah – warm and nourishing, and tastes like a high-end version of grandmother's chicken soup.  The starter is served with a refreshing Ice Lemon Mint beverage.
For the main course, there are three to choose from as well: Ikan merah masak serai lemak bercili, a poached fillet of red snapper cooked with lemongrass and chilies, served with yellow basmati rice (nasi kuning) and a side of mashed sweet potato (ubi manis); Loin of lamb rendang, served with homemade kelupis (glutinous rice roll), with a side of sautéed pumpkin turmeric and pickled vegetables; or Ayam goreng cicah assam jawa, pan- fried breaded boneless chicken served with a dip made of local avocado and tamarind sauce and a side of salad.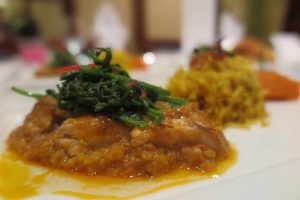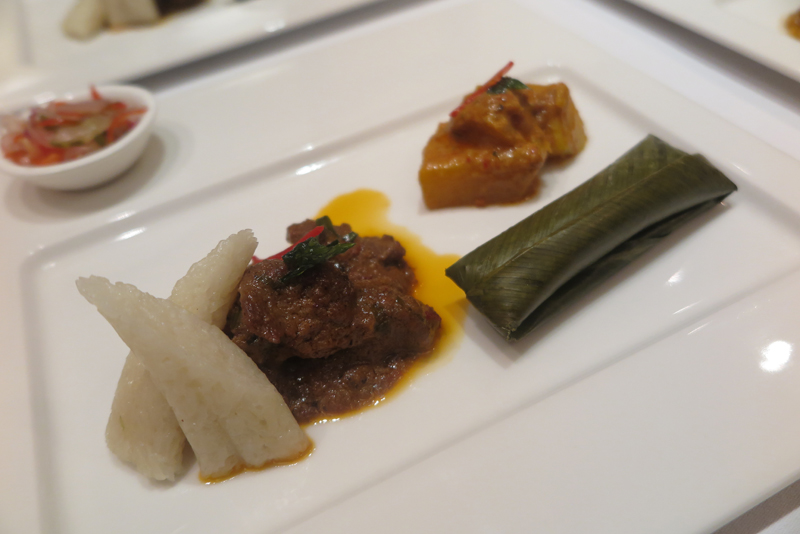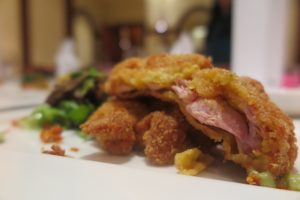 The Ikan merah masak serai lemak bercili tastes as good as it looks, complemented nicely with mashed sweet potato while the yellow basmati rice balances the tastes out perfectly, and we would come back for more of the homemade kelupis in the Loin of lamb rendang, but the most satisfying dish would have to be the Ayam goreng cicah assam jawa – big portions of tender boneless chicken served up with an amazing avocado tamarind dip, so good we asked for more dip! The main course is served with a glass of air bandung – as good as any we've tasted.
But the dessert is of a whole different class altogether.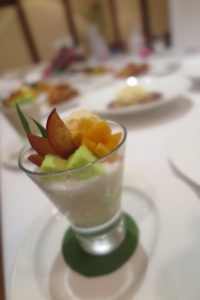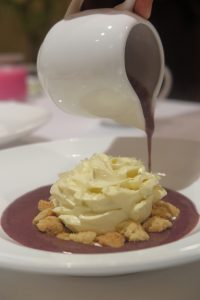 First off, the strawberry seri muka – a cake we would buy in an instant. This version of the traditional seri muka has strawberry custard on top of the glutinous rice and crowned with mango cream– a lip-smacking combination. The Sago Gula Melaka is a new take on the traditional dessert, comprising sago pudding, a gula Melaka mousse, coconut ice-cream, coconut jelly and pandan sponge cubes – refreshing, with a subtle taste of gula Melaka, sure to please the palates of both locals and tourists. But in sight and taste, the Yam flavoured Brunei cheese cake is absolutely divine. A cream cheese rose, hiding a yam sponge, sits on top of a ring of pistachio crumble and vanilla Chantilly cream, and surrounded by a moat of black glutinous rice sauce – an amazing combination and an absolute winner. Desserts are served with a cup of hot teh tarik.
Along with the three-course meal, diners will also have the pleasure of tasting three local dry cakes – kuih buahulu, kuih lidah and kuih cincin – all homemade by Chef Ana Amalina using traditional methods.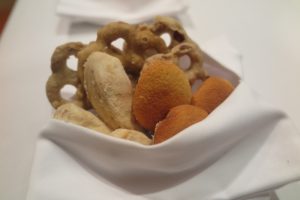 A special shout-out has to go to the local chefs responsible for these dishes: Chef Ana Amalina (starters and main course) and Chef Fairuz Ibrahim (dessert), whose enthusiasm and love for their local cuisine definitely shone through in the stellar dishes they prepared.
The dinner set menu at Spaghetti's of The Empire Hotel & Country Club is made in conjunction with the Brunei Gastronomy Week and will be served from 22nd to 28th February 2017. Prices are BND$32.50 per adult /BND$18 per child (subject to 10% service charge). For bookings, call them at 2418888.